A Fashionable Affair: Melange de Blanc at New York Bridal Market
April 25, 2023 by Michelle
This year, during the New York Bridal Market, I had the pleasure of attending Melange de Blanc, to immerse myself in the world of stunning bridal gowns.
In addition to exploring the event, I scheduled an appointment with a talented designer I met through a business master class. More about this designer later.
Upon entering the venue, I immediately headed to the second floor. There, I passed by MAC makeup artists skillfully creating stunning bridal looks. However, I pressed on, eager to explore further. I wandered passed a section featuring sleepwear and loungewear before reaching an intimate space showcasing the work of two bridal designers. One of them was the designer I was scheduled to meet with; I browsed her collection while waiting for her to complete a current appointment.
After our meeting, I ventured into a large room filled with an incredible array of bridal gowns and accessories. I meet with [to meet with] three accessory designers. This experience expanded my vision for bridal styling, beyond the gown, veil, and bouquet.
My first stop Nestina Accessories, founder Ernestine personally designs beautiful, handmade headpieces, belts, earrings, and more, with care and attention to detail. I was captivated by the detail and intricacy of each piece. Incorporated with Swarovski crystal, pearls, and glass beads each piece will add elegance to any bridal hairstyle or dress.
If you're looking for something special for your bridesmaids, Nestina Accessories has a wide range of options. From earrings to hair accessories, you will find the perfect accessory to complement your bridesmaids' dresses and hairstyles.
What sets Nestina Accessories apart is Ernestine's commitment to quality. Her handmade pieces are made to last, ensuring that you and your bridesmaids are able to cherish them for years to come.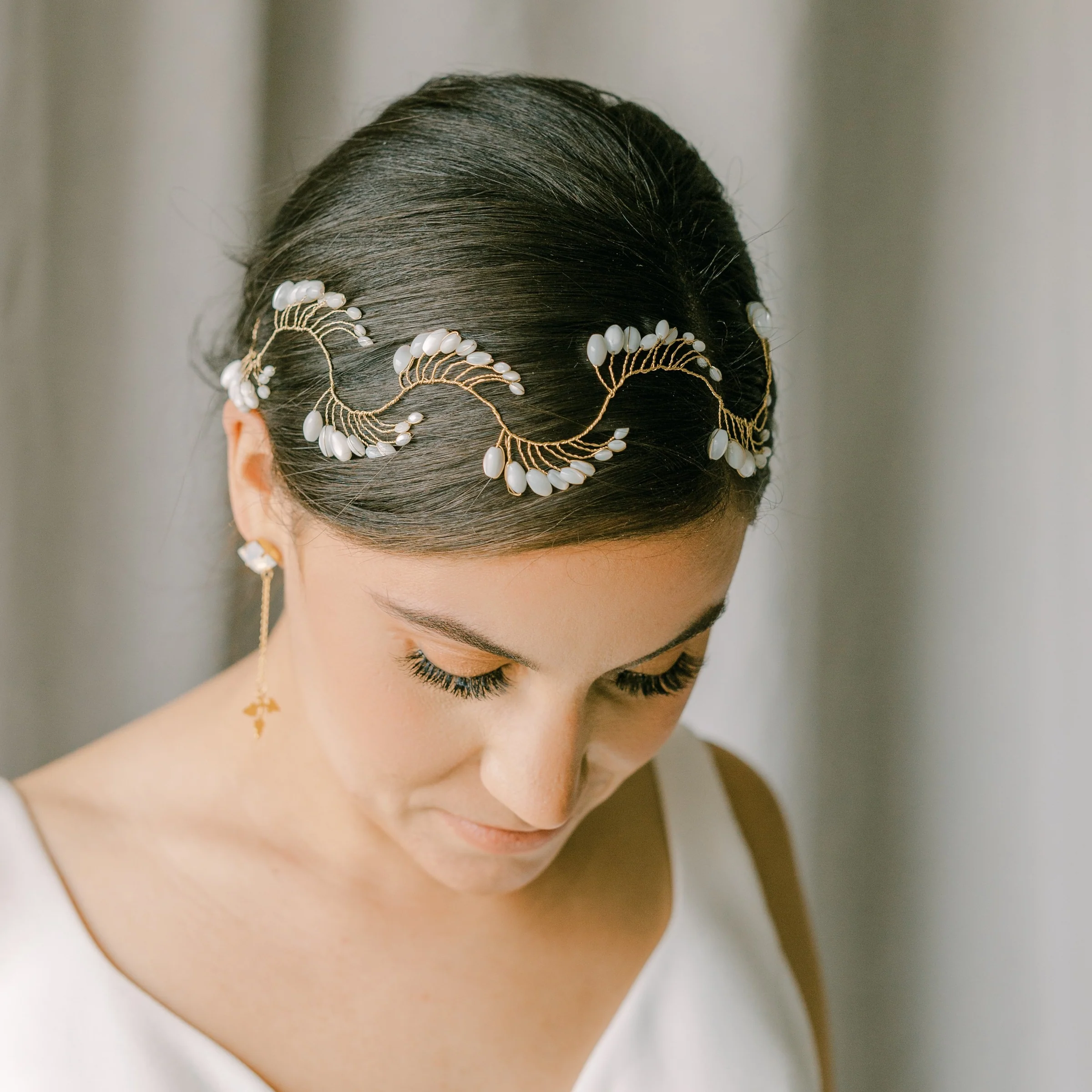 Photo Credit: Something Minted Photography
Visit Nestina Accessories' website now to discover these stunning pieces for yourself. Whether you're a bride-to-be or a bridesmaid, Nestina Accessories offers your special piece!
Next, I stepped into the world of Halima Grine, where headpieces, fascinators, and veils are transformed into wearable works of art in the hands of millinery designer Karima, As I explored Karima's collection, I was drawn to the chic and elegant designs that are reminiscent of the sophisticated headwear seen at UK weddings and special events.
Karima's designs are a delightful mix of fun and refinement, with unexpected elements that add a touch of whimsy to each piece. From feathers to silk flowers, each design is crafted with care and attention to detail. And for those looking for something truly unique, Halima Grine offers veils that are beautifully crafted with hand-painted designs, intricate silk flowers, and delicate beading.
Whether you're a bride looking for the perfect finishing touch, or looking for a piece for the mother-of-the-bride the Halima Grine's collection is sure to impress.
Photo Credit: Halima Grine Instagram
You must Halima Grine website to learn more about Karima and see some of her stunning creations.
I closed out my accessory tour at Les Couronnes. If you are looking for a charming and whimsical touch for your wedding day? Look no further than Les Couronnes. This European-based brand offers stunning preserved fresh flower crowns, hair pins, and earrings that are perfect for brides and bridesmaids alike. And the best part? Les Couronnes is also available in the US!
The designer behind Les Couronnes, Laurenne, creates beautiful pieces using fresh flowers that she preserves naturally. I was surprised by the flower's smooth, almost leathery texture. Using preserved fresh flowers ensures that your accessory will look beautiful on your special day and beyond.
Each piece created by Laurenne for Les Couronnes is made with care and attention to detail. The crowns are perfect for brides who want to add a touch of nature to their look, while the barrettes and earrings offer a subtle and elegant touch. Whether you are looking for something bold and statement-making or delicate and understated, Les Couronnes has something for you.
Don't miss out on the chance to add a touch of charm and whimsy to your wedding day visit Les Couronnes' website to see more of Laurenne's beautiful designs and find the perfect piece for you!


Now I'll share the reason for my visit to Melange de Banc - ZB Couture.
Looking for a gown designer who creates beautiful pieces with care for the environment? Look no further than Zahra, the designer behind ZB Couture. ZB Couture is a collection that is not only stunning but also sustainable.
What sets ZB Couture apart is each gown is hand-painted and one-of-a-kind, ensuring that you have a unique piece that is sure to turn heads. The movement of each gown and dress is reminiscent of a field of flowers, creating a sense of grace.
Photo Credit: ZB Couture
Each gown is passionately crafted using natural fiber fabrics produced where they are designed, in the US. What's more, Zahra incorporates fabric remnants in new designs, so you can be confident that your purchase is eco-friendly. From your wedding to cocktail parties to evening events, ZB Couture pieces are versatile enough to wear for any occasion.
Visit ZB Couture's website to see Zahra's beautiful creations and select an available piece or schedule your appointment with Zahra to design your one-of-a-kind piece.

Melange de Blanc at New York Bridal Market was a captivating experience.
Download My Free Home Wedding Planning Checklist
Subscribe to receive this free gift.
Don't worry, your information will not be shared.
We hate SPAM. We will never sell your information, for any reason.